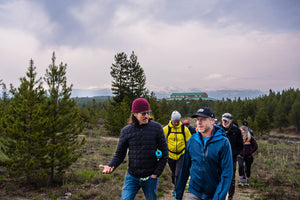 A boutique Colorado creative agency specializing in brand building, graphic design, and digital marketing services. We help our partners grow, connect, and inspire.
Jake Wheeler, Founder and Owner
Jake lives in Colorado's Roaring Fork Valley and is a creative thinker, community builder, storyteller, connector, trusted leader, explorer, designer, and champion of brands.

His north star points towards the values of community, stewardship, connection, creativity, accountability, hard work, and authenticity. He has over 10 years of brand building experience through working in-house for tech startups, apparel brands, and ski resorts.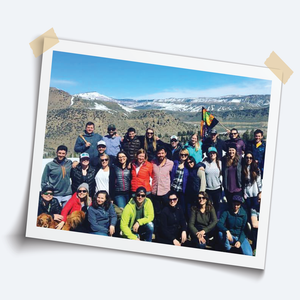 Specialities:
Branding and Identity Design, Digital Marketing, Brand Management, Community Engagement, Creative Direction, Digital Platform and Channel Management
Awards:
Outdoor Industry: 30-Under-30 Future Creative To Watch
On The Map: Rising Stars of Chattanooga
Credentials:
BFA in Graphic Design, University of Tennessee
Seats:
2018-2022: Outdoor Industry Association Future Leadership Academy Board Member
Volunteer:
Roaring Fork United Soccer Coaching
Roaring Fork Outdoor Volunteers

Caught on Stage
Speaking:
Summer Outdoor Retailer 2018: Community Building and Content Marketing in the Outdoors

Winter Outdoor Retailer 2022: Diversity, Equity, and Inclusion Brand Building

Futurist Project Retreat Summer 2022: Designing Your Life and Showing Up As the Same Person: Personal and Professional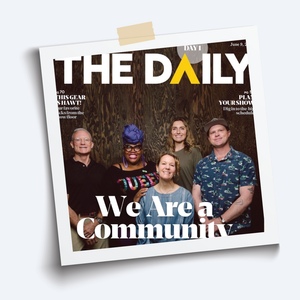 Hard Work and Hand Shakes
Jake was included on the front page and in Outdoor Retailer's Daily issue on Day 1 of the 2022 summer show as an example of community focused involvement and dedication to the outdoor industry.
Elevate Your Brand
At Day Fire, we want to have a conversation around how we can help you succeed on your next adventure. We work with outdoor and active lifestyle companies in a variety of capacities to build authentic brands, produce unique story-driven content, promote products, and create lasting connections with their communities.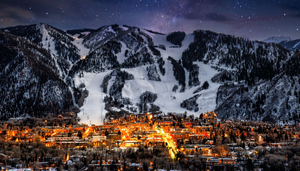 Our mission is to creatively help brands grow, connect, and inspire. Our vision is to build a long lasting creative business that helps value-aligned brands achieve their goals with short and long term solutions.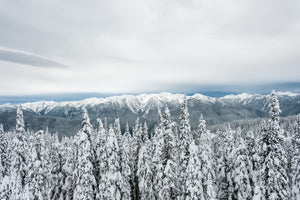 We are committed to justice, equity, diversity, and inclusion in the community. We are learning and open to all perspectives. Our business decisions are intentional about the impact of our world and climate. We believe that the outdoors are for everyone, everyone deserves the right to feel safe and have the opportunity to experience something new. We hold ourselves responsible to take ownership and action in our personal and professional decisions.
Seeking Summits
We strive for new experiences, fresh perspectives, and challenging moments of growth.
Wise & Warm
We are constantly in pursuit of knowledge, while being thoughtful, empathetic, and inclusive.
Protect & Play
We are dedicated to breaking down the barriers to the outdoors and protecting the places we play for future generations to come.
Common Ground
We believe in conversation and connections and that the outdoors has no lines of separation.
Ripple Effect
We believe that one splash can create a lasting memory and transformative journey for you and those around you.
Active Thinking
We have found that our best ideas are a result of immersing, observing, creating, and interacting with the environment.
During one of the most volatile years ever of the social media landscape (major social issues erupting, platform boycotts, society feeling like it's imploding) AND a pandemic shutting down our resort and the world, Jake maintained a positive attitude, incredible flexibility and a commitment to what mattered most during a crazy and unsettling time period - connecting with our community in an authentic, impactful way
Aspen Skiing Company
Day Fire provides outstanding designs and marketing insights. Their responsive, quick, and friendly.
Summit county government
Director of Sustainability
I met Jake working on a project as part of the Outdoor Industry Association's Future Leadership Academy. Our team put 10 military veterans on a river trip with 10 Outdoor Industry professionals to jump-start a network to get interested Vets an entrée into our Industry. In our short time together, Jake impressed me with his work ethic, creativity, calm presence, but mostly with his authenticity and kindness. I walked away from our work together with a sense of achievement – Jake helped lead us to tackle a problem with a novel approach to complete success – but more importantly, I now have in Jake a friend I can trust!
Arc'teryx